Backpacking in the wilderness of the Sierra requires a certain amount of comfort with discomfort. You'll be carrying everything you need for the duration of your trip, and you need to be prepared for a wide range of conditions. I'm certainly not the most experienced since there are thru hikers who make their own dehydrated food, hike for days, resupply, and continue hiking. So far, I've also stuck to the warmer months and haven't had to deal with nighttime lows below 20°F. I have dealt with 50 MPH wind gusts, thunderstorms, stream crossings that required getting wet, miles of hiking on snow (thank you winter of 2018-2019), and scrambling around on scree. But mostly what I've gotten reasonably good at is cramming all my backpacking essentials into a 75-liter pack along with 15 pounds of camera equipment. Roughly a third of my pack by volume is camera gear, and my trusty tripod comes along in one of my hands.
My pack is a modified ULA Catalyst that I took to a tailor to sew on two straps so that I can attach my tent onto the outside. It has a generous amount of webbing, excellent waist belt, and adjustable side pockets. My tent is a Big Agnes Copper Spur UL2 which is a two person tent. It can either fit all of my gear to protect it from rain, or Dori if she comes with me (she does not come with her own stuff sack). I'm 5'10" and I can always fit my camera equipment at my feet if there's another human with me.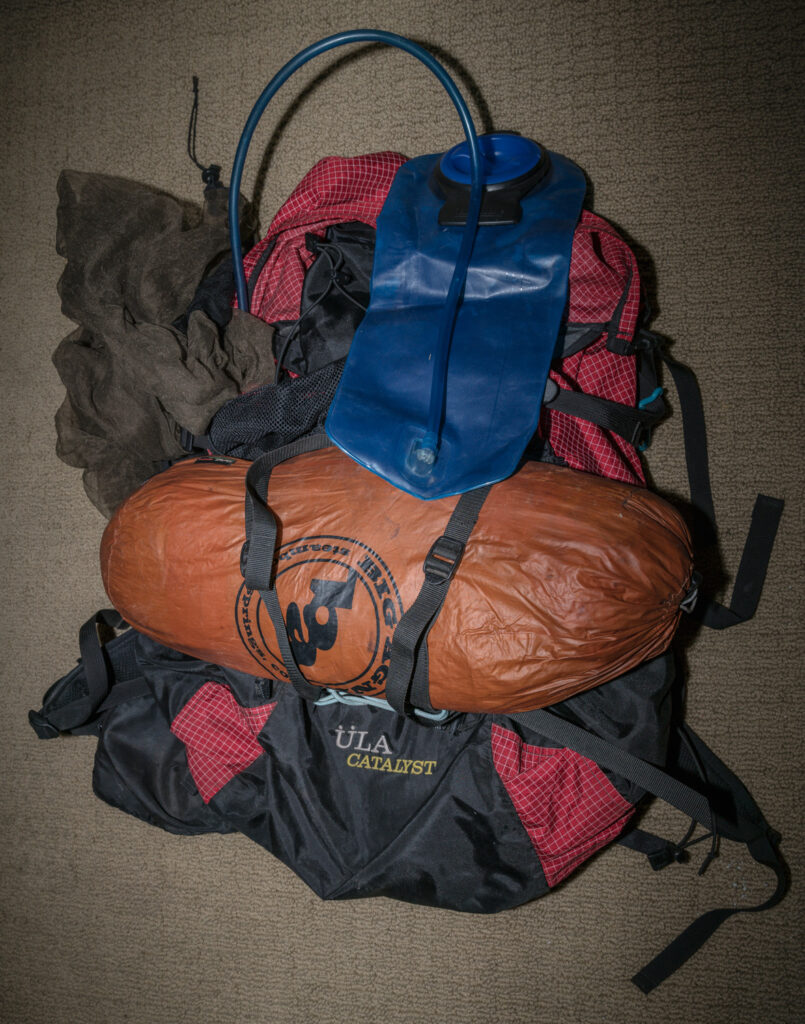 The inside of my pack is divided into thirds:
The bottom third has my sleeping bag (I have a Kelty 32°F bag weighing 1.5 pounds, but it is discontinued), air mattress (also discontinued), and an inflatable pillow (mine has been good for more than 30 nights, but it looks like some people are having problems with it). I sleep comfortably, but managing weight and volume is dependent on how hot or cold you sleep. You can always throw in a sleeping bag liner to add warmth. I also include 50 feet of nylon rope for a clothesline or other purposes.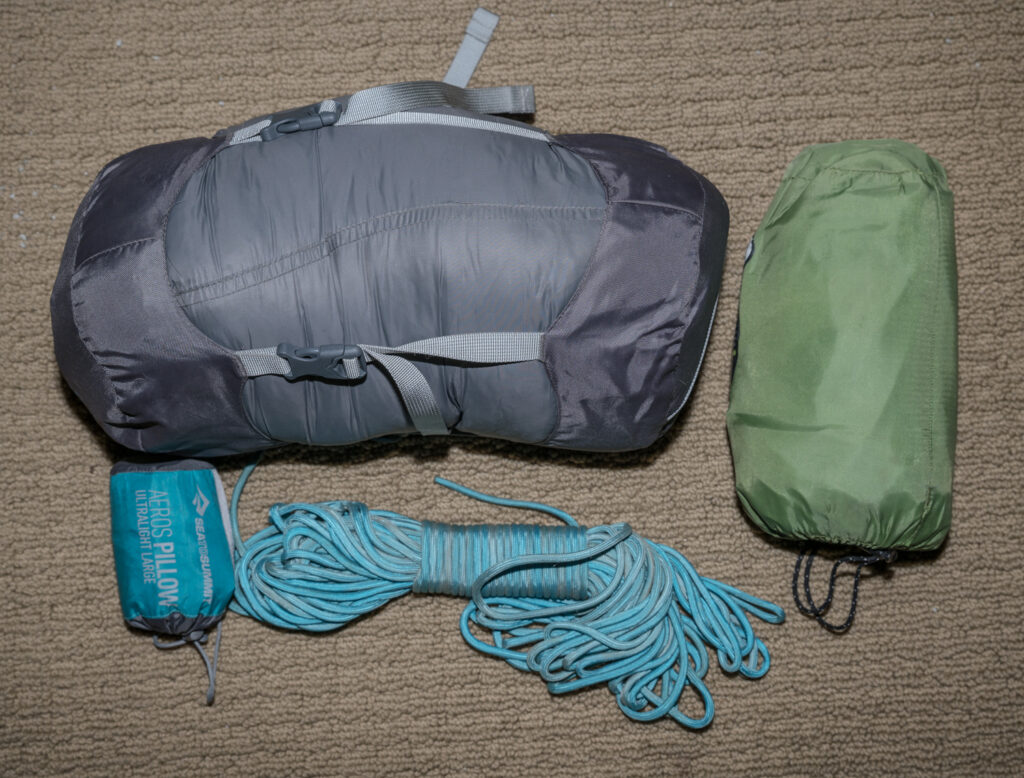 The middle third is my food container which is a BV500. Depending on the length of my trip, I can cram in up to 5 days of food, and if it's a shorter trip, I can keep an astro lens in it for good measure. It's on the heavier side, but it has excellent volume and it is good for all my purposes even if it is on the heavier side. I also slip in a battery to charge my GPS, UV water filter, and phone.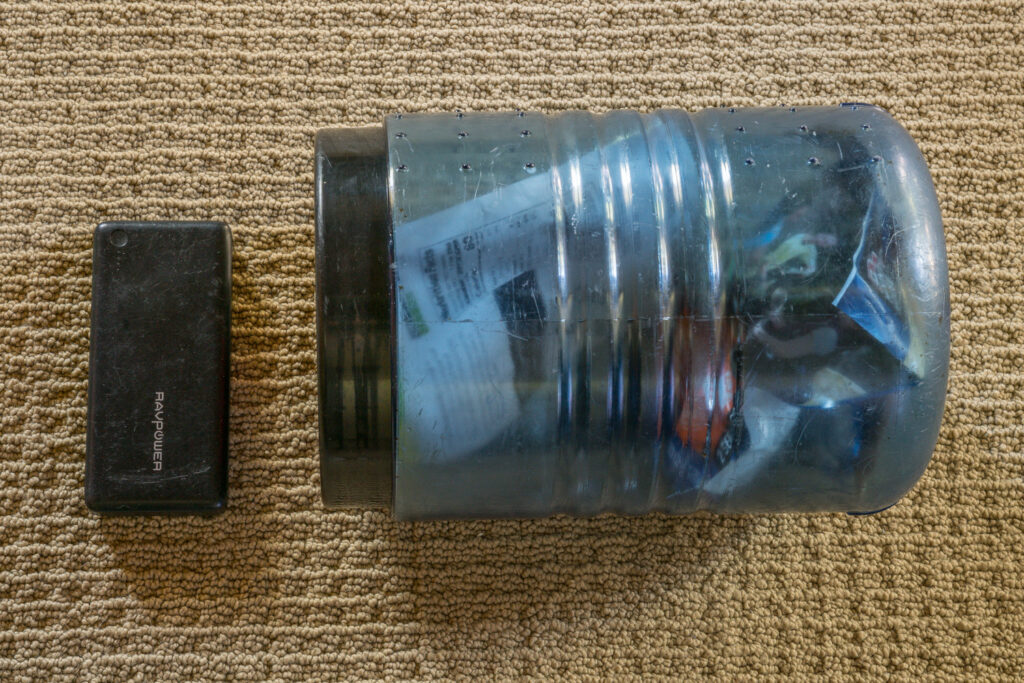 The last third is my camera layer. I have a small Lowepro shoulder bag to be able to carry around my gear during shooting hours. It can hold two lenses, camera with lens attached, a rain cover for the camera, batteries, and lens cleaner. It isn't sold anymore, but if I were buy one now, it would probably be this Think Tank (though it is heavier than mine). My current setup for backpacking is a Sony A7R2 with a Metabones Canon adapter, a Canon 11-24mm f/4 at the wide end (though I have a 16-35 f/4 that I've used in the past), a Canon 24-70 f/2.8, and a Canon 70-200 f/4. The zoom setup is incredibly versatile for my landscape needs. If I bring a lens dedicated for astrophotography it is either the Rokinon 20mm f/1.8 or Rokinon 24mm f/1.4. I usually opt for the 20mm lens unless I have a particular framing in mind with the 24. I also have my filter pouch which holds my Lee Filter system (3 stop ND, 6 stop ND, 10 stop ND, and circular polarizer along with the filter holder and a cable release for astrophotography). I also manage to fit my Jetboil Flash in for cooking on top of the camera equipment.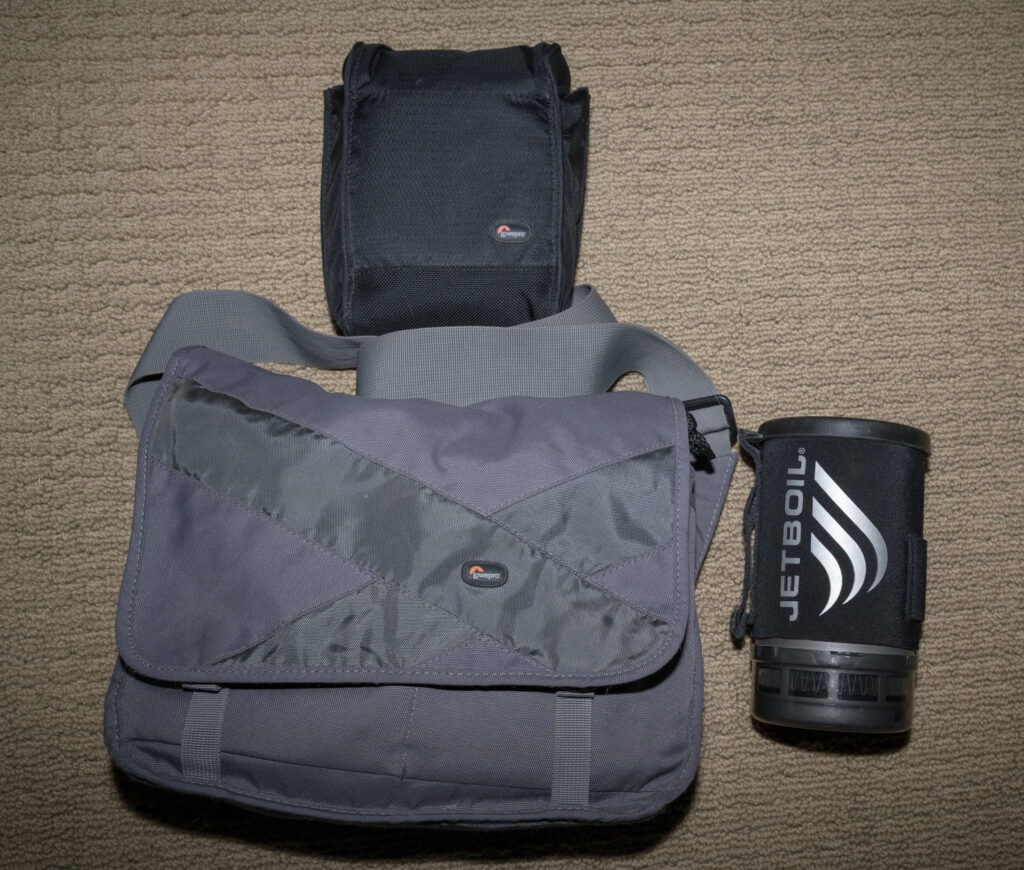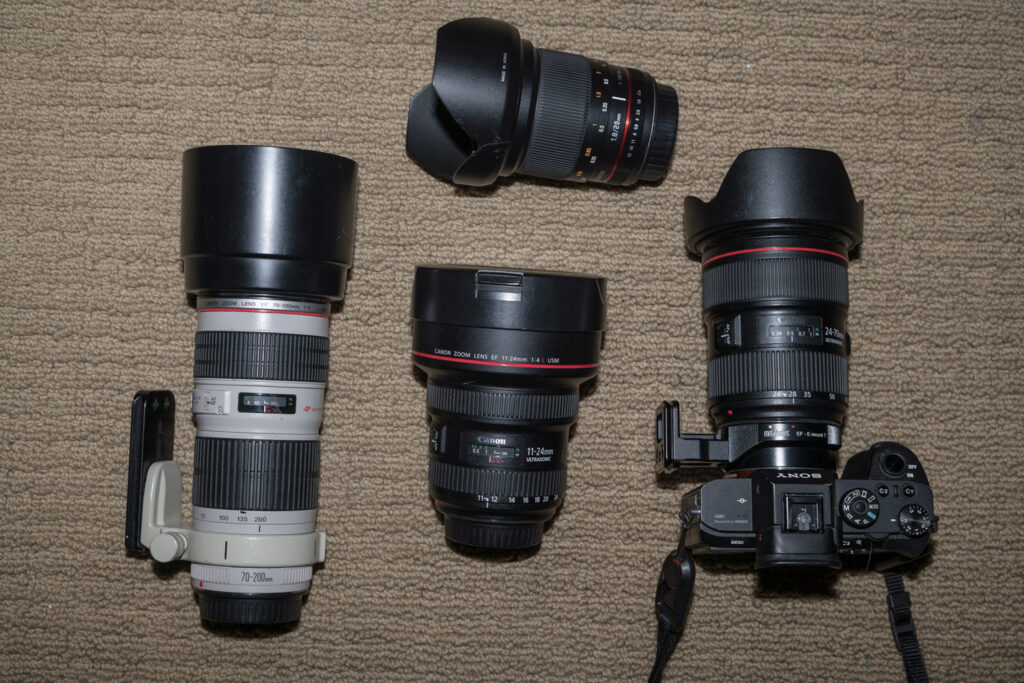 The pack also has a pocket for a 3L water bladder, and a small zip pouch where I put my 10 essentials first aid kit, toilet paper, and my car key.
In the webbing I cram in a pair of warm pants for cold mornings, an extra shirt, pair of underwear, and a pair of socks, microspikes for snow problems, and a mess kit (bowl and utensils). My waist belt pockets hold my knife, flashlight(s) with removable red filter, charging cords, matches/lighter, compass, and dead camera batteries.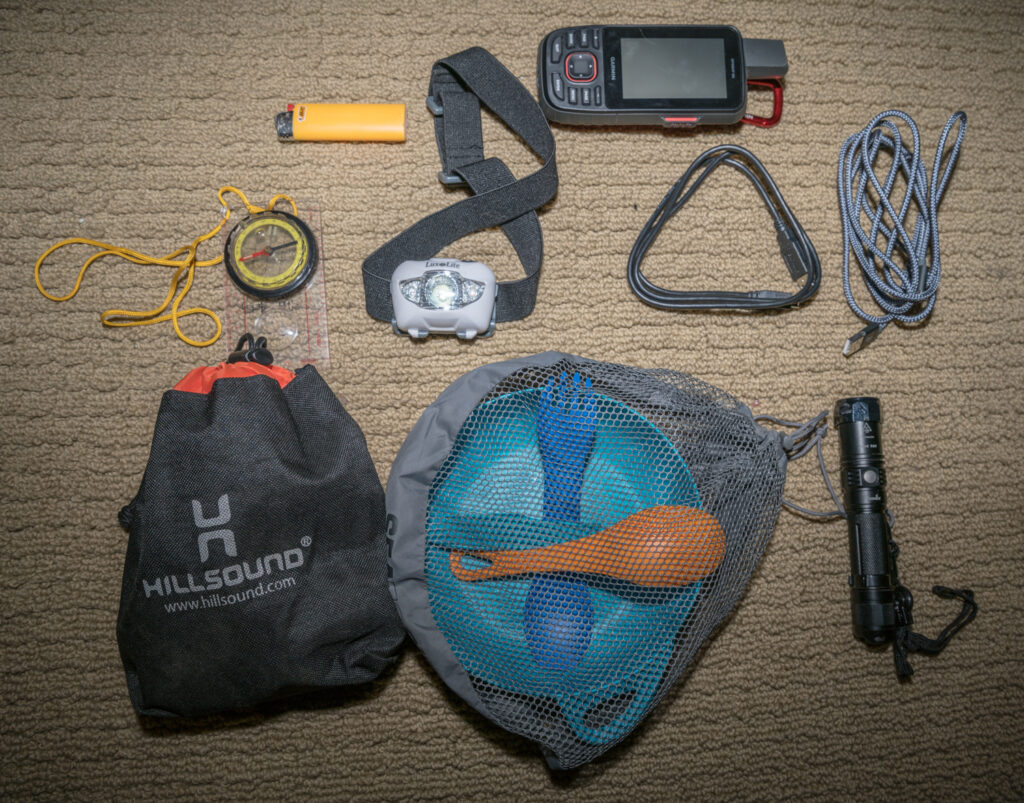 In my side pockets I keep my map for the area, wilderness permit, sunscreen, mosquito repellant (I use lemon eucalyptus instead of DEET), and sunglasses on one side. On the other I have a 1 liter Nalgene, UV Steripen for water purification (I have the Katadyn Ultra Water Purifier because I can recharge it via USB), pack rain cover, trowel, and towel.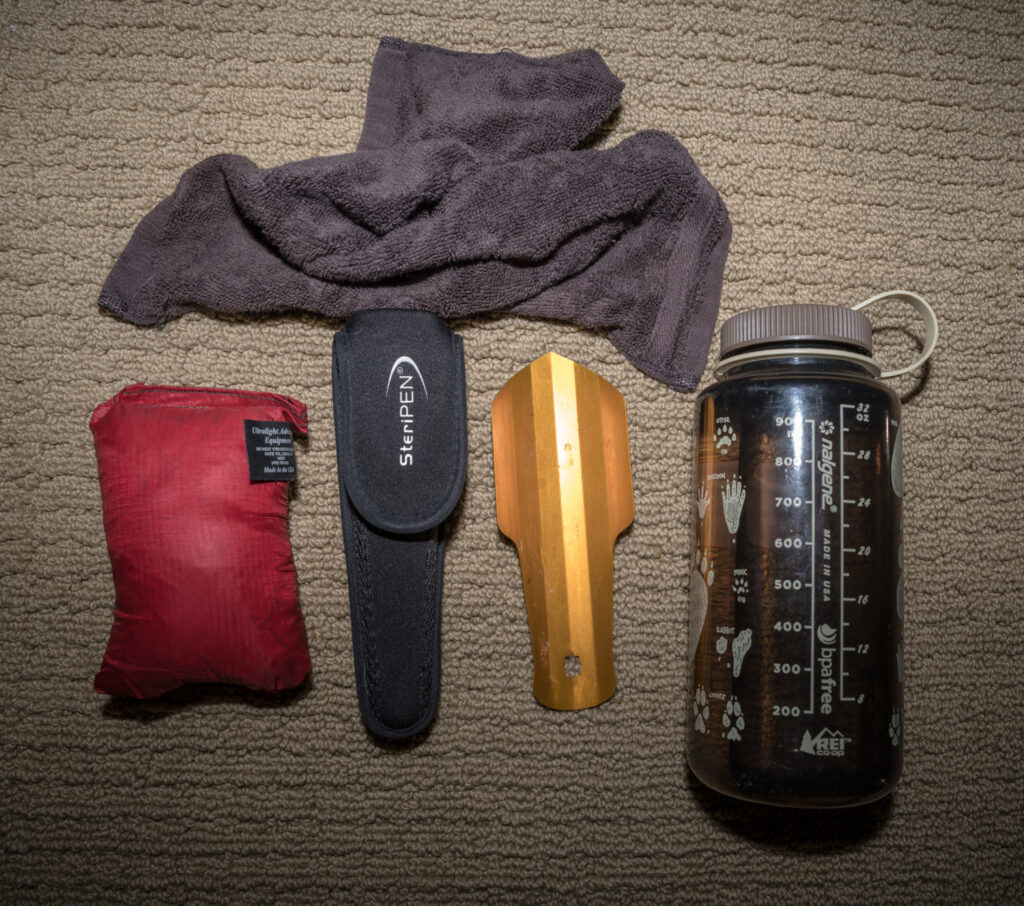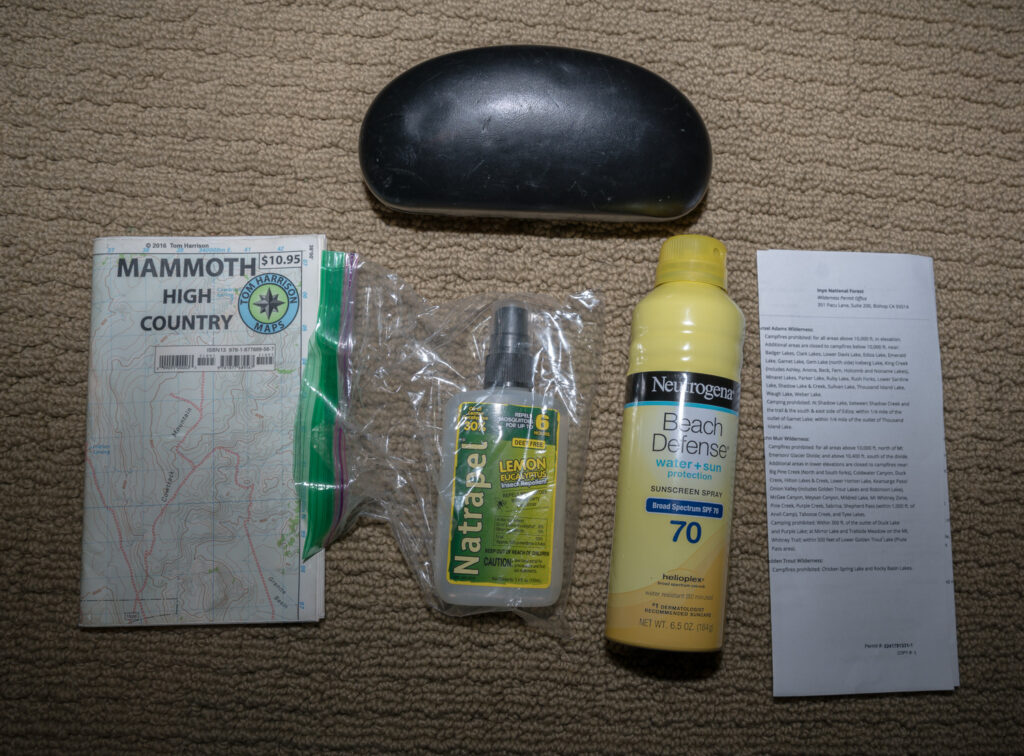 Lastly I have my 3 in 1 jacket tied around my pack with my two layers of gloves (lining gloves and convertible mittens) and my mosquito jacket if I'm not using it. My mosquito jacket gets the most comments from passing hikers (followed by the full sized tripod).
There are places I could save some weight and volume (the 11-24 lens is gigantic, I could carry less water, use a lighter weight water filtering system, get a smaller bear canister, get a smaller sleeping bag, etc). If you've been thinking about backpacking with your camera equipment you can always start out with less camera equipment until you get a measure of how much you can handle. However, when I go to a place that few people will see, and I bring back high-quality images, I have a sense of accomplishment that isn't matched by much else in life. I assume if you're bothering to read this that you'll end up with a similar feeling. If you have any suggestions or questions feel free to leave a comment below (unless you're trying to sell various pharmaceuticals or other questionable items or services).